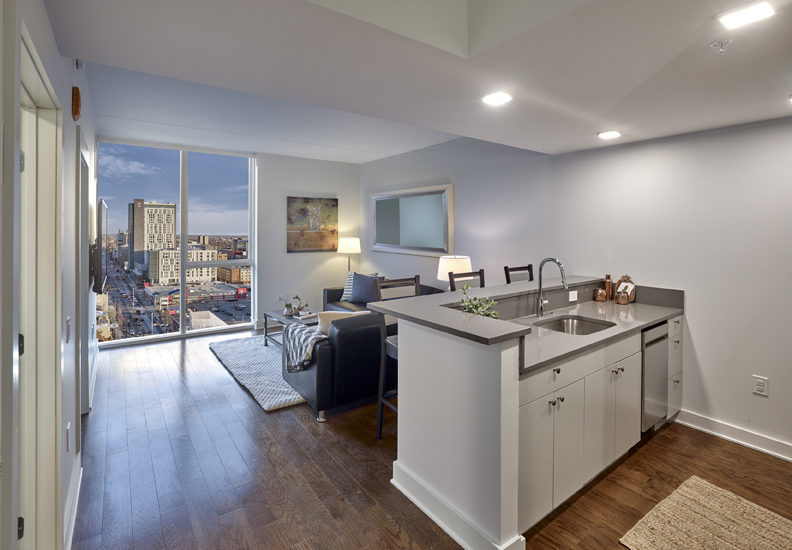 Temple University's Office of University Housing & Residential Life unexpectedly announced today that on-campus housing for returning students in fall 2019 has reached full capacity and the housing selection process has ended. This announcement comes as a shock to the thousands of returning Temple students planning to live on campus while studying in North Philadelphia during the fall semester. Caught by surprise, returning students are now scrambling to find housing for the upcoming academic year.
To address the looming crisis, The Nest at 1324, a luxury 18-story student housing community located at 1324 North Broad Street, is now offering all Temple students its special "Sign Together, Save Together" promotion through February 28. Students who sign with a roommate by month's end will each save $250 off their first month's rent.
"We're seeing an influx of panicked students who had no idea there was a shortage of on-campus housing at Temple University," said Thomas Citro, sales manager at The Nest. "The good news is The Nest at 1324 can accommodate 528 students and still has availability for fall 2019. Our conveniently located, safe, and all new student housing community is packed with every amenity a student needs to succeed. We invite returning students to stop by for a model unit tour and take advantage of our limited-time discount, perfect for students wanting to live with their friends."
Available units include studios, two-, and private and shared three-bedroom apartments. Pricing starts at $750/month. Interested residents can call 484-365-1324 or visit www.thenest1324.com for more information. Model unit tours are available Monday through Friday 2:30 p.m. to 5:30 p.m. and Saturday and Sunday 9 a.m. to 4 p.m.
---
About The Nest at 1324
The Nest at 1324 is a luxury off-campus apartment tower for Temple University students in Philadelphia, Pennsylvania. Developed by luxury residential developer Bock Development Group, the 18-story, 192-unit student housing community is located at 1324 North Broad Street, minutes from Temple University's main campus. With its all-glass, modern design, The Nest at 1324 will offer students something they have not experienced before — sleek, amenity-laden living at an affordable price and in a safe and secure environment. Students can choose between fully-furnished studios, two-, and private or shared three-bedroom apartments. Rent starts at $750/month.